Applications
Marking & Engraving
Laser Robot is marking static and on fly:
Mark of thermal paper:
Cutting & Scribing
Laser label foil:
Marking on the fly:

The Laser is the alternative to the established ink-based technology. They are reliable with low operating costs.
You have the application – We have the solution… Please contact us for samplings and feasability tests.
Medical Technology
Medical CO2-Laser are an alternative to scalpels and offer new treatments in dermatology.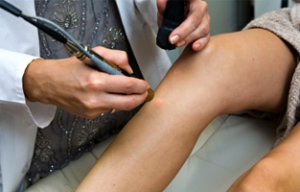 Advantages: CO2-Laser light is particularly good absorbed by the human tissue, additionally the purchase-costs are comparably low.
Ultra compact Taufenbach laser make it easier to change to a profitable technology and makes Laser engraving more economic.